Comprehensive Carrier Screening Panel for Genetic Conditions
Genesys Diagnostics is one of the only labs in the country that has all 145 of the American College of Medical Genetics (ACMG) and American College of Obstetrics and Gynecology (ACOG) recommended genes in our Carrier Screening Panel.
Two different assays are implemented to determine carrier status: Next Generation DNA Sequencing and multiplex ligation dependent probe amplification (MLPA) with capillary electrophoresis.
There are over 150 genetic disorders that are covered by this type of test including cystic fibrosis, spinal muscular atrophy, Duchenne muscular dystrophy, and Fragile X Syndrome.
Our panel includes all ACMG Tier 1-3 and ACOG recommendations as well as various additional disorders that have a carrier frequency greater than 1:200.
Non-invasive prenatal testing (NIPT) is also available for pregnant mothers and requires a maternal cfDNA blood sample. This type of test screens circulating fetal cells within the mother's blood sample and gives insight into if the fetus has any chromosomal abnormalities.
As a trusted partner in genetic health, we offer comprehensive carrier screening panels to help providers identify potential carriers of genetic conditions in their patients that they may pass on to their children. Our advanced testing platform delivers accurate and reliable results, enabling providers to make informed decisions about patient care. With our easy-to-use portal, providers can seamlessly order and access results, making the process efficient and convenient.
Specimen Requirements: A buccal (cheek) swab provided by Genesys Diagnostics (OraCollect Dx; DNA Genotek Buccal Swab), or a whole blood sample (~5 mL) in a lavender top (K2EDTA) collection tube.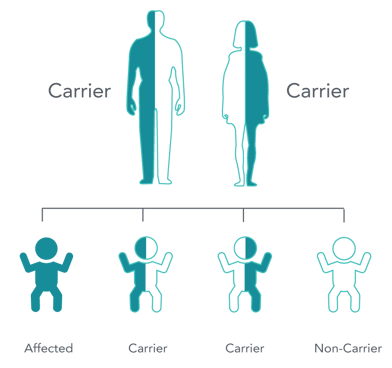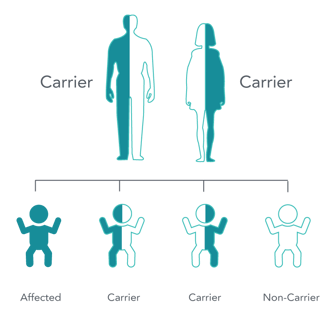 If one parent is a carrier of a disorder, the child has a 50% chance of also being a carrier.
If both parents are carriers of a disorder, the child has a 50% chance of also being a carrier and 25% chance of having the disorder.
Genetic Carrier Screening Panels
Click each gene for more information
Comprehensive Panel (145 genes): ABCA3, ABCC8, ABCD1, ACADM, ACADS, ACADVL, ACAT1, ACSF3, AFF2, AGA, AGXT, AHI1, AIRE, ALDOB, ALMS1, ALPL, ANO10, ARSA, ARX, ASL, ASPA, ATM, ATP7B, BBS1, BBS2, BCKDHA, BCKDHB, BLM, BTD, CAPN3, CBS, CC2D2A, CCDC88C, CDH23, CEP290, CFTR, CHRNE, CLCN1, CLRN1, CNGB3, COL7A1, CPT2, CYP11A1, CYP1B1, CYP21A2, CYP27A1, CYP27B1, DBT, DHCR7, DHDDS, DLD, DMD, DNAH5, DYNC2HI, DYSF, ELP1, ERCC2, EVC2, EYS, F11, F8, F9, FAH, FANCA, FANCC, FANCG, FKRP, FKTN, FMO3, FMR1, FXN, G6PC, GAA, GALC, GALT, GBA, GBE1, GJB2, GLA, GNE, GNPTAB, GRIP1, HBA1, HBA2, HBB, HEXA, HFE, HOGA1, HPS1, HPS3, IDUA, L1CAM, LDLR, LOXHD1, LRP2, MCCC2, MCOLN1, MCPH1, MEFV, MID1, MLC1, MMACHC, MMUT, MVK, MYO7A, NAGA, NEB, NPC1, NPC2, NPHS1, NPHS2, NR0B1, OCA2, OTC, PAH, PCDH15, PEX6, PKHD1, PLP1, PMM2, POLG, PRF1, PYGM, RARS2, RMRP, RNASEH2B, RPGR, RS1, SCO2, SERPINA1, SLC12A3, SLC19A3, SLC22A5, SLC26A2, SLC26A4, SLC37A4, SLC6A8, SMN1, SMPD1, TF, TMEM216, TNXB, TYR, USH2A, XPC
High Frequency Pan-Ethnic Panel (11 genes):HBA1, HBA2, HBB, PMM2, CFTR, DMD, FMR1, ACADM, PAH, DHCR7, SMN1
Fragile X (1 gene): FMR1
Duchenne Muscular Dystrophy (1 gene): DMD
Spinal Muscular Atrophy (1 gene): SMN1
Alpha Thalassemia (2 gene): HBA1, HBA2
Cystic Fibrosis (1 gene): CFTR
Individual gene testing also available.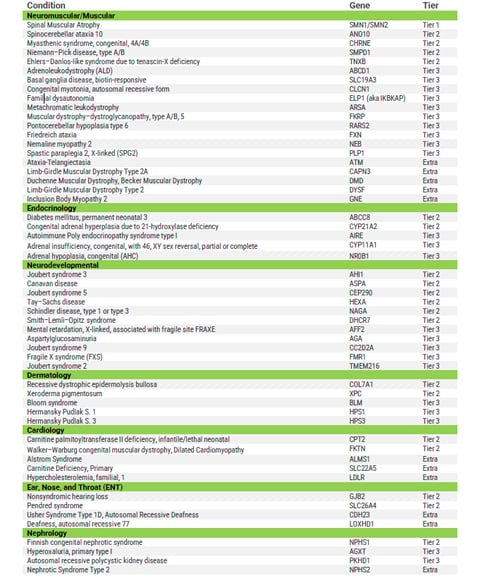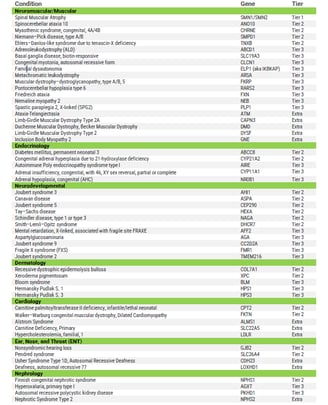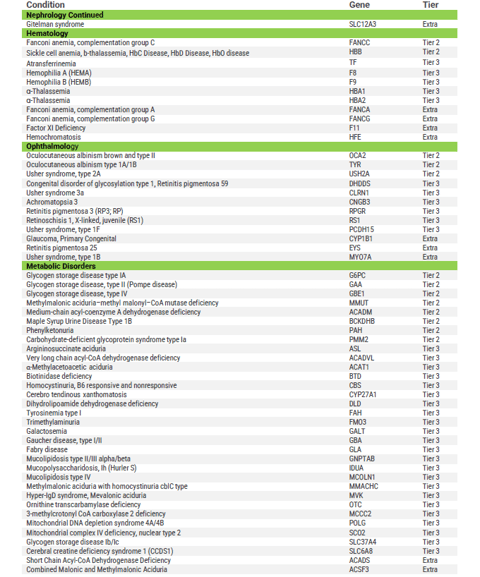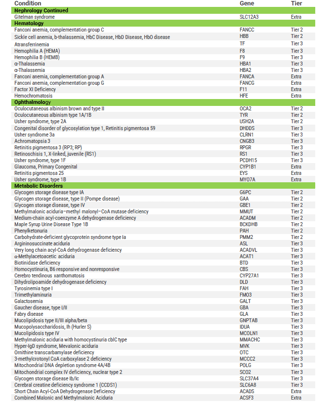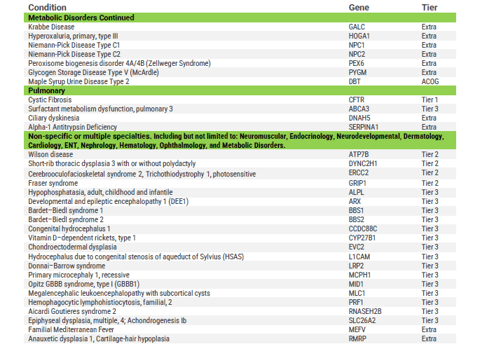 ACMG tiered screening details: Tier 1 (CF/SMA), Tier 2 carrier frequency ≥1:100 (includes Tier 1), Tier 3 ≥1:200 carrier frequency (includes Tier 2 and xlinked conditions).